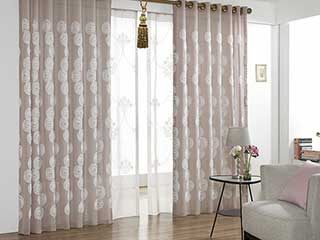 Our modern custom made blinds and shades come in a huge range of different designs and styles to suit any home or office. When you're choosing new window treatments for your property, it's important to consider what material they'll be made of. Different materials have a range of different benefits, so you need to be sure you're choosing the right type for your needs and taste.
Which Materials Are Available?
Window coverings are available in a wide range of materials, depending on their type and structure. Blinds are often made from aluminum or vinyl, for low maintenance requirements. More elaborate ones are made of wood, but for those who don't want the added maintenance that comes with that, faux wood blinds are another viable option. As for shades, they can be made of a range of natural or synthetic fabrics, in a range of opaque or sheer colors. There are also more esoteric materials, which lead to the creating of coverings such as bamboo shades, which can be perfect for more eco-friendly homes. These materials all have different benefits and are ideal for different purposes.
Why Choose Wood Blinds?
Real wood brings a lot of aesthetic benefits to a room, making it feel homely and cozy. It's also hardwearing and easy to work into a wide selection of styles, so it can be produced with a range of patterns, and can take lots of different finishes. However, wood is a relatively heavy material, and it's also susceptible to taking in moisture, which can result in mold and warping. It can require more upkeep than other materials, which is why faux wood blinds make for a very popular choice nowadays.
Is Aluminum Right For Your Blinds?
About as tough as blinds get, aluminum is a great choice for when you want a clean-looking, low-maintenance option that also reflects some sunlight. It's great for studios and office spaces, where the sleek lines fit the spacious decor, but is perhaps a little less suited to living rooms.
Should You Choose Vinyl Blinds?
Combining the easy maintenance of aluminum with a bit more appeal, vinyl is a great choice in many situations. It can even be molded with real wood grain to create faux wood - this provides the aesthetics of timber without the higher upkeep requirements. Vinyl is a great choice for many places in the home or office, and is relatively inexpensive too. However, it isn't quite as tough as aluminum, nor as appealing as real wood.
Fabric Window Coverings
Shades, whether of the Roman, cellular, or layered variety, are perfect for controlling natural light in any room with a simple and beautiful cover. Fabric is a light and affordable material. It comes in a huge range of colors and designs, so it's really an ideal fit for any type of décor, and it's also relatively easy to take care of. Fabric will stain easily though, so take care not to let it get dirty and make sure you dust your fabric shades regularly.
Need Help Deciding?
No reason to contemplate the different choices on your own. Schedule a free consultation with Chula Vista Blinds & Shades and have an expert come to your home or office and introduce you to the wide selection of custom made coverings available today.