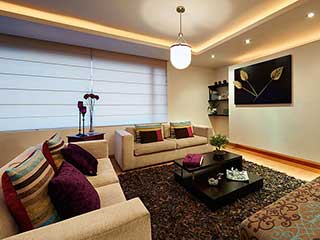 Roman shades are a popular alternative to standard blinds. Their unique design enables the panels to stack up evenly when the shade is opened. This gives this attractive style a neat and tidy aesthetic as well as making them incredibly practical for space saving and light control. The panels are flat when the shade is closed and covering the window. This is a desirable feature if you have a preference for modern looking flat surfaces within your living spaces.
Have Custom Sizes
If you need your blinds to fit differently sized windows, we have you covered! Our expert team can make sure your shades are cut to the exact size that you require. No matter what shape or size window you have, we have the expertise to ensure you get a shade that fits perfectly. Using a standard size can be a huge risk, which is why our made-to-measure service is such a success. Take all the headache out of the equation by having your new blinds cut to the exact size you need. Want help getting it right? We offer helpful in-home consultation to ensure that all your needs are met.
Why Have Roman Shades
Roman blinds are designed to offer depth and dimension. They are great for blocking out the sun during the day and providing privacy at night. Many people prefer this style to standard shades because of the attractive way that the fabric hangs when drawn. This distinct style offers timeless character and can be paired with all types of interior design. The single sheet structure means that there are no gaps which ensures exceptional sunlight blocking capability. Need help with making your selection? Get in touch with our experienced and friendly team at Chula Vista Blinds & Shades for more information regarding any of our stocked products!