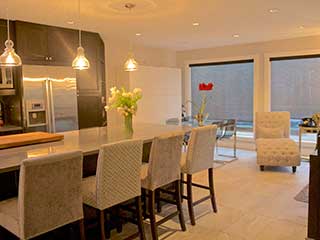 Almost any style of window shades can be installed with an electric motor and remote and/or computerized controls. These powered shades can be set to always adjust themselves to keep your house at the perfect temperature, protect your furniture, and let in light with perfect reliability. Also equally important, their cordless feature makes them safer for small children.
Roller Shades Are Easiest
The most user-friendly and low maintenance option for motorization is the simple roller-mounted fabric shade. Since they're held in place on both sides by their window fixtures, these shades are the least likely to develop folds or tangles that could get caught in the machine. They are available in multiple types of fabrics, and when it comes to colors and designs, the sky's the limit. To top that off, our custom made roller shades can be made to fit any window size.
Reliable Paneled Shades
In order to ensure maximum control over the sunlight levels that come in, paneled or cellular shades have some extra tricks up their sleeve. By setting the motor to raise them just slightly at certain times of the day, you can let in filtered or full sunlight at the opportune times. Due to their greater weight, these shades can hold themselves straight even without a frame to hold them in place (though many may use these as well).
Automation And Tasteful Decor
You don't need to sacrifice aesthetics even a bit to have your window coverings motorized. Roman pleated shades, bamboo sheets, and sheer fabric styles can all be purchased in both hand-drawn and automated versions, to fit the decoration scheme of any room in your home or office. For longer windows, horizontally sliding shades can also be provided and installed with an electric motor and a control system that acts on time, weather conditions, or handset signals.
Get Your Shades Today
Motorized shades of any style are available for sale and installation anywhere within city limits, and come with a free consultation visit from our professionals! Contact us now and get the shades you need.