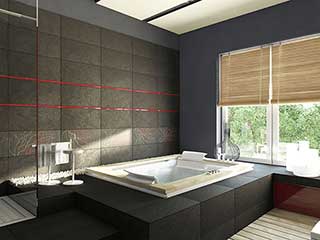 Bamboo shades, also known as bamboo blinds, matchstick shades or woven wood shades can transform any room to a unique and exotic environment, bringing in a natural and exotic ambiance.
Custom Made Shades
The natural texture of bamboo lends itself to customization more than any other material. Even shades that are bought of the shelf can easily be re-sized by trimming the sides or the length with simple tools! When you purchase them from professional companies you can also add designer fabric edging to bind the sides, thus creating a more elegant look to the natural roughness. They can be lined with light control fabric or with blackout fabric for full privacy and light control. And of course, the bamboo itself comes in a range of colors and shades.
The Full Range Of Lifting Options
In addition to the flexibility of the design, bamboo shades can have a modern motorized lift, thus avoiding the need to pull and bother with cords. If you choose to not automate the control of your window coverings, cordless lift, top-down/ bottom-up, and continuous cord loop controls are available.
Disadvantages Of Bamboo Shades
As with all window coverings on the market, there are a few drawbacks to bamboo. As they are made of natural but fragile material, they must be handled gently and carefully. The shades are brittle and can split, which may cause the fabric binding to fray and the entire shade to collapse. If hung improperly they will break. They also easily collect dust, so cleaning must be done very carefully with a soft brush, and not with cloth wipes that can get trapped in the rough surface of the bamboo.
Get Your Own Today!
The advantages of bamboo shades surely outweigh their disadvantages! So, if you are looking for that special look for your living room or any other area of your house, give us a ring to schedule an appointment! Our representatives will be there in no time to discuss your unique needs.