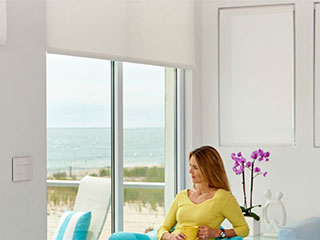 Thanks to the wonderful innovations of technology, motorized blinds now offer one the best window covering solutions for homes, businesses, and many other properties. You can get remote controlled blinds custom made in different sizes and designs. With new smart Wi-Fi window treatments, you can cover large or small surface areas, enjoy automatic timer settings, and many other features. As a top source for motorized window blinds in Chula Vista, offer free quotes on all automatic window coverings. If you're close to this part of the greater San Diego area, we're happy to help with in-person consultations (provided for free!).
Automatic Window Covering Solutions
The beauty of the new advancements has made it so that virtually all types of window shades and blinds can use motorization. That means you can go with motorized blackout curtains for a bedroom or a variety of Venetian or vertical blinds with electric motors for other places. Any window treatment option you like can transform into a motorized version with all the design features you found beautiful. We custom make motorized blinds for Chula Vista residences and commercial businesses, meaning we're used to creating unique covering solutions of different styles. Going with automatic window coverings offers a sense of high-tech solutions that take care of a lot of the hassle for you.
Choosing Custom Made Motorized Blinds For Windows
The importance of custom-sizes can't be overemphasized. When you choose to cover windows with motorized blinds or other types of treatments, you're looking for maximal coverage. Well, unless you get the motorized window blinds custom made, you can find gaps between the frame and the blinds or window shades. This lets in sunlight even when the window coverings hang closed. Thus, you're not getting the privacy you deserve. Also, if you have motorized blinds installed in your Chula Vista bedroom, you might find the lack of custom size creates less than ideal sleeping conditions. Custom blinds with motors offer an easy-to-use window covering solution that ensures your privacy, protection, and comfort every time.
Which Motorized Window Blinds Features To Get
Besides the obvious benefits of blinds motorization, remote control window coverings offer some additional nuance for you to use as you wish. Want to have your window blinds open and close without you telling them? You can have motorized blinds custom made with timers or schedule setting options. This gives you the ability to decide when and for how long the electric blinds will cover the window or expose it. With this effective control over sunlight, you can utilize natural lighting to the max. This can end up saving you money on energy, as it allows you to better control indoor climate and lighting conditions.
Can I Get a Quote on Motorized Blinds?
Of course! We provide free estimates on all of our custom made window treatments, available to all San Diego area cities. From motorized window blinds to patio covers and freestanding shade sails and awnings, you can consult with our professionals on every type of covering solution. Looking for the best prices on motorized window blinds near Chula Vista? Call us and book your free consultation appointment today!