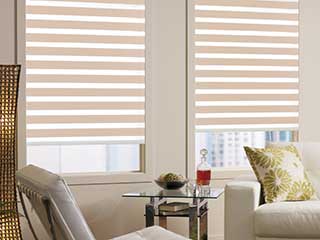 The unique look of layered shades makes them a popular choice when it comes to custom made window coverings. They consist of a double layer of fabric that exhibits sheer and opaque stripes, hooked on a lop that rotates. When the sheer slats sit parallel, they let sunlight in, but also diffuse it to keep harmful UV raycs out. When the opaque slats cover the sheer ones, the shade creates a room darkening effect that also enhances your privacy.
What Rooms Are Layered Shades Good For?
Layered shades make for a wonderful addition to many types of rooms, with kitchens and living rooms especially favored. With a simple pull you can switch from plenty of sunlight to near blackout conditions, and switch back a second later with the same ease. If you're looking for window coverings for a room that needs to alter its ambiance throughout the day, layered shades provide a very elegant and effective solution.
Custom Made Elegance and Modern Charm
Something about the zebra-like pattern of layered shades makes them really great at complementing the décor of all sorts of modern office spaces. The high tech vibe created by these window coverings serves to enhance the existing ambiance significantly. The neat trick with which layered shades operate makes them feel innovative but also simple and efficient, which is a type of style that certainly suits a wide range of rooms. When made to fit your windows, they'll provide a complete sense of natural light control and offer glare reduction, which is imperative for maintaining employee productivity.
Striped Shading Solutions
It's no wonder why many home and business owners opt to go with custom made layered shades for their windows. The unique design (highly customizable, by the way) and the simple and innovative effectiveness make these coverings a worthwhile option suitable for practically all types of rooms and windows. Want to know more? Get in touch with Chula Vista Blinds & Shades to set up a free consultation with one of our local experts.