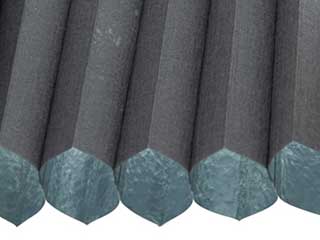 The first thing window shades need to do is protect you from harsh sunlight. They need to reduce glare, if not block out light completely. In addition to that, they also need to offer you privacy when closed. Those are the basic requirements people have from window coverings. Cellular shades hit all those marks, but also provide an additional form of insulation that will reduce heat transfer during both summer and winter.
How Cellular Shades Work
These pleated window treatments consist of a cellular structure, as the name suggests, and it is with this structure that their efficiency shines. The cells trap hot air and prevent it from traveling out or into the room through the windows. This buffer makes it so that less heat escapes during the cold winter months. During summer, it creates a hindrance for heat from outside to traverse, thus allowing you to maintain a nice and cool indoor temperature more easily.
Privacy and Light Filtering
Much like other types of window treatments, cellular shades can be made out of all sorts of different materials. The fabric you choose will determine how well they'll block or filter sunlight, as well as what degree of privacy they'll provide. Thicker and more opaque fabrics will naturally lend to a room darkening effect, while sheer materials will allow you to utilize natural lighting while also providing some UV protection and glare reduction. There are no adjustable vanes, so opening and drawing the shades will allow you to adjust how much sunlight gets in and what level of darkness is achieved.
Custom Made Cellular Shades Installed Right
When it comes to window coverings, whether of the cellular kind or just in general, it's important that the fitting and installing process is carried out by experts. This is to ensure that the covers, cellular shades in this instance, do their job properly from the start. Seeing as how these honeycomb-like shades also provide insulation in addition to blocking and diffusing sunlight, it's important that they're set up by professionals, to ensure you really do get all the benefits. For a free consultation at your home or office, contact Chula Vista Blinds & Shades today.