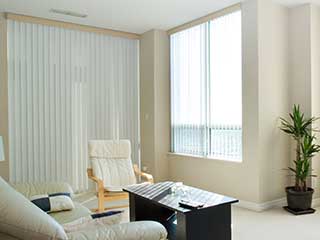 While most window treatments slide up or down along the window frame, vertical blinds move sideways along a set of tracks and rollers. Like other blinds, they're made up of rigid panels that can rotate in place, but unlike other types, these panels run vertically across the window. What this means is that vertical blinds are perfect for windows that are longer than they are tall. And, with just a phone call, you can have a set of vertical blinds custom made for you and installed at your Chula Vista address!
Ideal Blinds For Home And Office Windows
Vertical blinds on office windows are a good fit, especially in waiting rooms or large office suites. Since they slide open sideways, you can adjust these blinds to let in plenty of light while keeping it from monitor screens and sensitive eyes! With the right choice of colors and materials, you can also use these blinds to help build a professional, comfortable atmosphere. The straight, vertical lines of some elegant wood or vinyl blinds can help your work environment as well as your windows!
Vertical Blinds For Sliding Glass Doors
Vertical blinds for windows are just one possibility. Sliding doors have many of the same issues that long windows do, and it's difficult to mount typical horizontal blinds or shades on them. Adding vertical blinds to a sliding patio or balcony door is simple. We'll just lay one more set of tracks along the existing ones on the ceiling and floor. External vertical blinds can also help keep your sliding doors secure against rain and moisture. Aluminum panels, in particular, can stand up to the elements.
Advanced Custom Vertical Blinds Options
Chula Vista homeowners have plenty of options when it comes to sprucing up our vertical blinds. In addition to choosing the colors and materials, you can have us install vertical blinds with curtains, or with secondary shades. You can also enjoy the fruits of modern automation with our motorized vertical blinds. Set your blinds to open and close at the appropriate times of day ahead of time, or equip them with sensors so you don't need to! Chula Vista Blinds & Shades provides remote controls, wall consoles, and other accessories along with your custom motorized blinds.
Cheap Vertical Blinds In Chula Vista
Here at Chula Vista Blinds & Shades, we believe in giving as much power as possible to the customer. That's why we provide free consultation services on our vertical blinds options. With these, our interior design team will advise you on the best choices for your custom blinds. Once you have your quote, our workshop roars into action! When we've finished your request, we'll make another appointment and provide the complete vertical blinds installation service. Our team includes setup, program, and testing for any automatic features during installation.
Learn More With a Free Estimate
We've been providing unique vertical blinds and various other coverings to local Chula Vista residents for years. And we live or die by word of mouth. Get in touch with the Chula Vista Blinds & Shades team today and let us show you how we make the best blinds for the lowest prices around. Arrange a free consultation and see all the available choices.