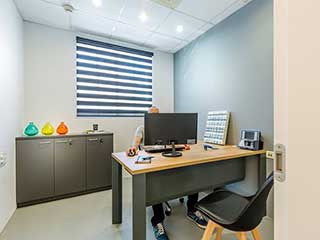 Our experts continually strive to stay up to date with the latest window covering technologies, so that you, as our valued customer, can experience your windows in a completely new light. Whatever your budget and requirements are, our team will do their best to help you pick the best products for your commercial needs.
Window Treatments for Your Commercial Project
Join hundreds of satisfied businesses who've come to us with their window treatment requirements. Our team will help you get the perfect treatment for your commercial project - regardless of its size. Count on us to come up with a solution that will meet your functional and financial criteria.
Shop for Premium Window Coverings
Our inventory holds a wide range of top-quality blinds, shades and drapery. Our team can help you with your selection process but here are some of our most popular options that will get you started in the right direction.
Roman shades
Although on the higher end of the price spectrum, Roman shades are the best choice for business owners looking to add a touch of warmth and softness to their interior. You are able to choose from multiple color options and patterns as well as lifting options and shade styles.
Cellular shades
These shades have earned their name after air pockets they sport, also called cells. It is exactly these cells that are responsible for the excellent energy efficiency of these coverings and that classic, elegant look. When you're shopping through us, you can choose from a variety of sizes, colors, and fabrics that will come with a varying degree of light control.
Roller shades
These window coverings come with a simple rolling mechanism and offer a combination of style and simplicity. They're easy to use and customize, as you will have complete freedom in choosing your own blend of color, pattern, and size.
Free Consultation Services
In need of new blinds, shades or drapes but don't know where to begin? Our team offers free advice and guidance in selecting the right product for your style and budget. Our specialist might encourage you to measure the dimensions of your windows to help in narrowing down your selection and finding the perfect window covering you need.
If you're in the market for the most beautiful, reliable and long-lasting window coverings you've come to the right place. Count on Chula Vista Blinds & Shades to help you select and install gorgeous and functional coverings in your office. Give us a call today.