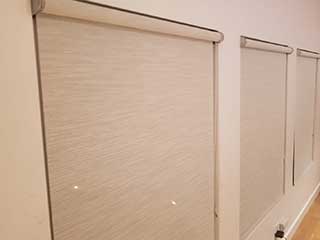 Too much sunlight can become a major problem rather fast. How often have you woken up early by bright sunlight pouring through your windows, with no way to stop it? How about sitting in an overly bright meeting room, squinting and trying not to get a headache? Issues like these are why we offer custom blackout blinds for Chula Vista windows (and glass doors). At Chula Vista Blinds & Shades, we produce the very highest-quality window treatments, made to fit your requirements exactly. You'll get to decide on every single aspect of your new blinds, so the only real limitation is your imagination! See our amazing products in person by scheduling a free consultation at your home/office address.
Best Blackout Blinds For Your Chula Vista Home
We understand that adding window coverings to every room in your home may seem like a daunting process. It doesn't have to be difficult or expensive, though. Our amazing rates give you peace of mind, allowing you to install blackout blinds whatever your budget is. In addition, our expert team takes you through the entire process from start to finish. We'll give you all the help you need when designing your new blackout blinds. And d we'll handle the blinds installation for you as well. Once you choose the materials and colors you want for your new custom blinds, we'll make them and return to put them in place.
Cheap Blackout Blinds For Skylights & Doors
All too often, property owners believe that it's difficult to get the right blinds for their room. That's not true, though. We're proud to provide a comprehensive range of products that suit any and all windows. Want to install blackout blinds on skylights? That's a great idea that will pay back dividends very quickly. And we offer the strong, lightweight materials needed here. So your skylight blinds will have no trouble helping create blackout conditions. At the other end of the spectrum, we also install blackout blinds on different types of doors (including French doors). These covers make for a great way to get privacy and protection at home without impeding your door's ease of use. For total control over the natural light in any room, blackout blinds can work tremendously.
Blackout Blinds For Chula Vista Businesses
Does your workplace need better window coverings? You might not think so, but there are many benefits to choosing blackout blinds for your local office. First off, you'll cut down on stress, eye strain and headaches amongst your staff. You'll also save on A/C costs during summer since you'll have much less sun warming the office. Finally, what can trump custom-made blackout blinds with a sleek, modern look? That's what we can provide for you, and our prices make it easy to fit into the budget. Find out more by calling our Chula Vista office today.
Free Quotes On Blackout Window Blinds and Shades
Our entire range of shading products gives you high quality at an affordable price. It's easy to upgrade any Chula Vista property with our low-priced motorized blackout blinds, for instance. These electric blinds let you benefit from amazing high-tech convenience to darken the room using a remote control or your smartphone. Get blackout blinds in your bedroom for maximum comfort. Imagine using your motorized window treatments for bedroom windows to let in sunlight without even getting out from under the sheets. This great luxury comes at a much lower price than you'd imagine. Find out about our great rates by getting in touch with Chula Vista Blinds & Shades today to schedule a free estimate.